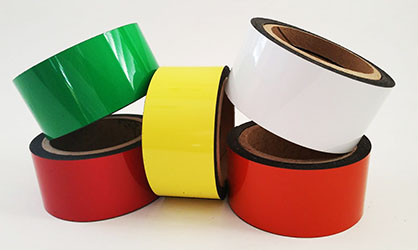 Colored flexible magnet rolls can be easily cut to any length with scissors, utility knives or shears. Colored rolls are perfect for labeling products and identifying product locations. Adhere labels or write directly on the vinyl surface. As information changes simply wipe off surface and reuse.
Use dry erase markers and easily change information as needed.
Color code inventory based on product life cycle.
Prioritize work flow on scheduling boards.
Track rental or borrowed equipment and supplies.
Color code seasonal inventory for new store layouts.
Great in offices, conference rooms or in the warehouse.
Thickness: .030", 1/32" thick and is also referred to as 30Mil.
We can cut to size, call for pricing. Contact Us.
Part #

M1Color

.030 x 1″ x 100′  Yellow, Red, White, Green, Orange

$115.00

$110.00

$100.00

5

M2Color

.030 x 2″ x 100′  Yellow, Red, White, Green, Orange

$160.00

$150.00

$140.00

10

Select

c

o

l

o

r

at checkout
澳洲8线上投注
澳洲8官方开奖
Customized products from Label Magnets improve the organization and work efficiency of any business.  Our products such as colored magnetic strips and colored magnetic labels can help businesses of any size organize their products and services and streamline operational functions.
澳洲8线上投注
澳洲8开奖预测
Magnetic strips can be customized for a variety of warehouse uses.  They improve efficiency because they provide the flexibility to make changes and relocate data almost instantly.  They provide the flexibility to quickly produce signs or labels on shelving, file cabinets, equipment and storage bins.  Dry erase colored flexible magnets have a surface that allows for a temporary solution to labeling that can be written on then easily wiped off and reused. The magnetization is permanent, so they can be used repeatedly in different locations.
Labeling is essential to the management of warehouse inventory and colored magnetic labels are ideal for placing SKU's as well as product names, numbers, identifications and descriptions on any metal shelving.  Colored magnetic labels are particularly useful in the management of inventory because they can be easily peeled and relocated as products are moved within the warehouse.  Sometimes, the labels themselves need to be changed.  For that purpose, dry erase colored magnetic labels are very useful as they can be quickly wiped off and re-written as needed.
These magnets are available in five colors and on rolls that are 100 feet long. We offer magnetic labels in white, red, orange, green, and yellow. These magnets are available in 1" and 2" widths, with 3" and 4" widths coming soon. These colored magnets are very easily cut to the desired measure with simple blades or scissors for any imaginable use. 
澳洲8线上投注
澳洲8开奖查询
These strips and labels are not only perfect for warehouses, but are also great at home, office and in schools, libraries, churches and many businesses such as restaurants, automobile dealerships and retail stores. 
At home, they are ideal for creating attractive refrigerator notes.  They can be used as long-lasting labels on toys, games, craft projects and attic storage item bins.  They make wonderful signs on metal door entrances and even mailboxes.  At the office, magnetic labels have many purposes such as the organization of file cabinets and the sorting and location of office supplies.  The strips can be customized into attractive and colorful signs that identify rooms or cubicles.  They are particularly useful in the management of workflow on scheduling boards.  
澳洲8线上投注
澳洲8免费计划
Customized magnets exude a professional look for any business.  Bright and definitive signs and labeling add aesthetic appeal and are integral to the image of any business.  Label magnets can be specified to fit precise sizes and shapes.  Custom-printed magnetic labels help businesses bring organization to products, supplies and services.  Information such as bar codes, rack locations, identification numbers, and any pertinent data can be conformed to any size and purpose.  Dry-erase colored flexible magnets render computer-printed labels a thing of the past.  The days of scraping off years-old scotch tape that covered paper labels are over.  Magnets are applied and removed instantly from any metal surface.  Label Magnets only uses materials made in the United States to ensure the highest standards of quality and durability.