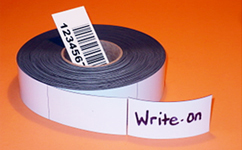 White Magnetic Strips
White Magnet Labels make it easy for you to write and rewrite directly onto the white vinyl surface with either a wet or a dry erase marker. They can be easily cut with scissors, utility knives or shears to fit your needs and is perfect for labeling products or to identify locations. Allows for easy and convenient inventory relocation and labeling throughout your warehouse.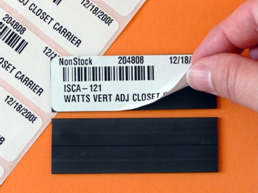 Plain Magnetic Strips
Pre-scored to standard label length and ready to use with pre-printed sticker labels. All you need to do is simply snap off each piece and start your labeling project. Can easily be relabeled and moved throughout your warehouse or shop as inventory changes.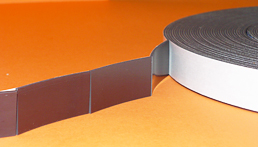 Magnetic Strips w/ Adhesive
This pre-cut roll is magnetic on one side, with permanent industrial strength adhesive on the other. Pre-scored,
Cut Through the Magnet (CTM) allows you to easily tear away and peel from the continuous intact liner and hang on any metallic surface such as metal doors, racks, or shelving.
Need a specific size, our experienced sales staff is ready to help. Our low minimums and quick turn time helps jump start your project. Contact Us.